Sun City Activities
Top things to do in Sun City
Golf enthusiasts can choose from two world-class golf courses.
Thrill-seekers can get their kicks from a wide choice of adventure activities.
Family-friendly Sun City offers an unbeatable selection of kids' entertainment and activities.
Spend the day at the man-made beach at Sun City's Valley of Waves.
Explore The Maze of the Lost City, the largest permanent maze in the Southern Hemisphere.
Wildlife lovers can discover the Big 5 on safari at the Pilanesberg Game Reserve.
With a massive selection of slots and tables, the Sun City Casino has your game.
Whether you want to experience the fastest zip slide in the world, float above the Big 5 in a hot air balloon, or enjoy a romantic night with your special someone, Sun City offers up an unbeatable variety of activities. So what are you waiting for? Go on, get exploring!​​​​​​​​​​​​​​​​​​​​​​​​​​​​​​​​​​​​​​​​​​​​​​​​​​​​​​​​​​​​​​​​​​​​​​​​​​​​​​​​​​​​​​​​​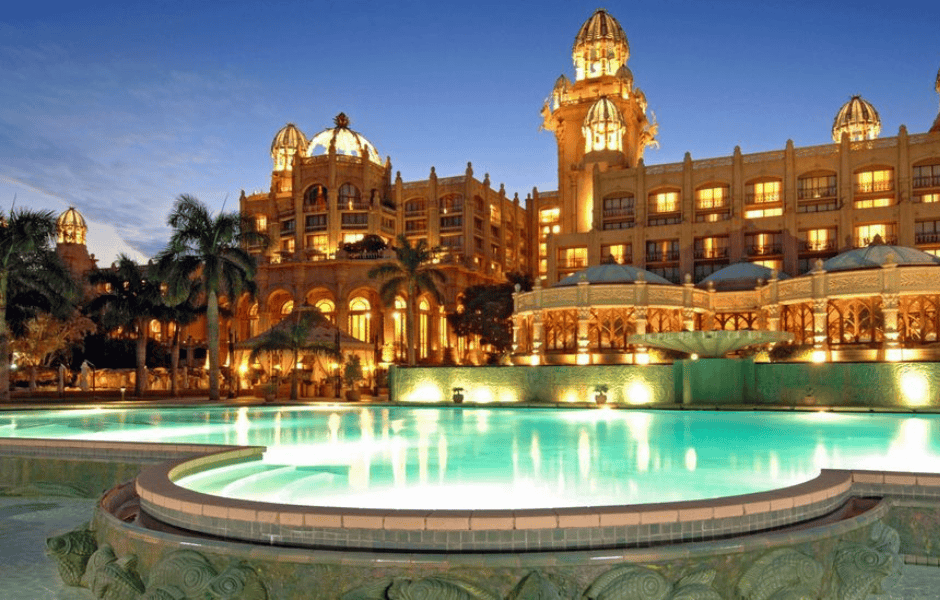 Welcome Centre
Visit the Welcome Centre for expert advice on the most popular attractions and best things to do in and around Sun City Resort.
Sun Central
Experience the coolest entertainment centre under the sun!
Nightlife
Experience Sun City's new Sports Bar, Vibes and rocking night club, Encore. Situated inside Sun City Hotel.
Valley of Waves
Sun City's world-class water park offers all those who love water slides and blood pumping activities a second home.
The Maze of the Lost City
Described as the largest permanent maze in the Southern Hemisphere, the Sun City maze recreates the illusion of an ancient archaeological discovery.
Golf
Choose from two world-class golf courses both designed by a legend, Gary Player, and played by the biggest names in golf.
Adventure
Adventure is out there! Sun City has a huge selection of outdoor adventure activities to experience, from water sports to safaris.
Family & Kids Entertainment
From Kamp Kwena to Finders Keepers, Sun City offers a world of family entertainment and a huge selection of fun and educational kids' activities.
Safari & Wildlife
Discover the Big 5 on a safari tour through the Pilanesberg National Park. Enjoy a guided game drive, a rhino tracking or hot air balloon safari experience.
Shopping
Sun City shopping means that you can buy clothes, sweets and swimwear all without leaving the resort. There's also a pharmacy and much more.
Spa, Health & Beauty
For all your pampering and beauty requirements during your Sun City vacation, visit the Royal Salon wellness spa or the Gary Player Health Spa.
Special Occasions
Looking for wedding or party venues? Sun City Resort has a special place for your special occasion.
Sport & Fitness
Sun City's sport and fitness facilities offer the perfect mix of fitness, fun and relaxation on your active holiday.